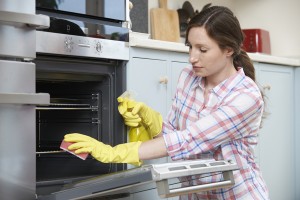 When the weather begins to make its change from old man winter to beautiful warmer spring temperature days we begin to feel that urge to purge and clean.
If you are like us, we have to reign ourselves in a bit with a tendency to start planting flowers and gardens. We know that there is still the chance of a frost or two over the next month or so.  We try to just be happy with cleaning out the flower beds and pots getting them ready for the beautiful flowers to come.
We do try to get more organized inside my home and getting it ready for the wonderful summer to come.  One of the best tips we can offer is to clean up the refrigerator.  As we head into the warmer months your family will begin to open and close this appliance many more times a day. Looking for a cold drink or snack will be easier if you spend a little time now getting it warmer weather ready.
Cleaning the Refrigerator
The first thing to do is give it the smell test.  If you detect strong smells chances are you have something hidden away that is causing the smells to seep into your milk, butter, and other foods.  Its time for a total clean out.  Remove everything and give your fridge a scouring with a mild cleaner and once done add a box of baking soda to help adsorb odors and change it out every couple of months.
Cleaning the Stove and Oven
Our stove and oven can also use a really deep cleaning this time of year.  All of those wonderful holiday meals and party foods have more than likely taken a toll on both of these appliances.  For the stovetop simply wet cloths with hot soapy water and allow them to lay flat on the surface of your stove for at least 10 minutes.  You will then be able to remove the softened dirt, grime, and grease from the surface.  For stubborn baked on grime you can very carefully use a straight edge razor to scrape off any remaining goop.  Once clean use a stove polish to buff it to a great shine.  For your oven you will want to clean it as directed by the manufacturer.
The Laundry Room | Laundry Service Raleigh NC
This is also a great time to spring clean the laundry room.  We spend enormous amounts of time doing the laundry but we never consider making that area as inviting and welcoming as possible.  This is the perfect time of year to clean out this space and then look it over ans see where we can make improvements.  A new rug, coat of paint, a potted plant are all small things that can make a huge difference in the way we approach that never ending chore called laundry.  In this room you can also take time to clean up the washer and dryer by running a cleaner for the washer either commercial or a homemade blend using vinegar. You can clean the outside of both machines with a gentle cleaning agent and a soft cloth.
Laundry Express is here to offer the best laundry service in Raleigh NC.  We offer state of the art washers and dryers on our self serve laundromat as well as dry cleaning services.  Visit our laundromat to bring us your toughest laundry problems and let us help you get a handle on your laundry!