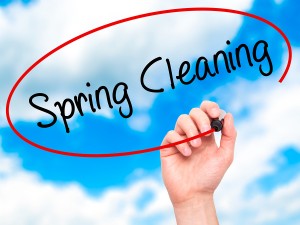 Moving from one season to another is always an exciting time. Spring/Summer is usually the time of year that signals a renewing of our spirit as the weather gently warms and the trees begin their budding.  We seem to experience an awakening after the harsh, cold winter months that are darker.  When this change begins we begin to want to stir around and put things in order around the yard and in our homes.  There is that promise of fun-filled, lazy days of summer beginning to unfold.
Spring Cleaning Routine | L
avanderia Raleigh NC
Did you know that even this early in the season change there are loads of things we can begin to do now to ensure we get to enjoy those fun-filled, lazy days with our family to the fullest?
Developing a really good cleaning routine that involves the entire family is one of the best ways to make summer fun really happen.  Even the smallest of children can begin to help out with simple chore such as sorting the laundry and putting away their own folded laundry.  In order to get the home ready for summer you will need to begin to deep clean it.  The following are some tip for that as well as tips on washing winter clothing.
To start you will want to move one room at a time.  You will also want to work top to bottom.  Dust your ceilings and walls to remove the winter dust bunnies that have accumulated along with the spider webs that multiply during the colder months. Be sure to dust those light fixtures as well.  You can then begin to dust shelves, and bookcases, pictures, and knicknacks.
Polish all of the furniture and then you can vacuum and mop the floors last.  As you work the room you will also want to remove old newspapers,magazines, and anything that does not belong in this room.
Look around for things that need to be freshened such as pillows, curtains, and accessories.  Adding some pretty, fresh spring/summer decorations will make the room brighter and lift your spirit as well.  Continue throughout your home into each and every room.  This should not be accomplished in one day or even two.  Take your time and do the job well.
Once this is accomplished call a family meeting to determine routines you would like to put in place to make the spring/summer everything your family wants it to be.  This is also a good time to have each family member go to their rooms (so to speak) and begin to help you transition their clothing form one season to the new.  Many items in our wardrobes can help us transition to warmer weather.  There are however items that can be laundered and stored away for next winter.
Heavy coats, scarves, mittens, sweaters can be put away for now.  Lighter sweaters, cardigans, and  jackets will be the norm now.  Have them bring all of these items to one are so that you can determine what amount of laundering of them needs to be done.
Laundry Express | Lavanderia Raleigh NC
If you need help with getting these heavier clothing items laundered, Laundry Express can safely dry clean these items for you.  We also offer a state of the art laundromat to help you get all of your winter items ready for storage.  Our wash, dry, fold service is also a great time saver for busy family's.  Come by and check out all of our laundry services today!