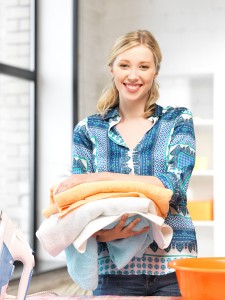 One of the most exciting things to happen in the life of a newly graduated, high school student is the prospect of finally being on your own, away from mom and dad.  Living on your own in a college dorm is the first step in becoming a young adult and can be looked at as a great adventure but…. !  With all that new freedom comes a few eye-openers for most new college students.  You will no longer come home to a great home-cooked meal and no longer will you pop open a drawer and find clean fresh laundry waiting for you!  If your mama trained you in laundry 101 congratulations, if not, we have some great tips for getting you on track with keeping up with your laundry chores.
Tips to Help College Kids Use a Raleigh Laundromat!
The first tip is to locate whatever container your mom helped you pick out for holding your dirty laundry whether its a laundry bag, basket, etc, and begin a habit of placing all your used clothing there every day.  When it is full, it is time to do some laundry.  Once a month will defiantly not suffice.  Most college dorms have a Raleigh laundromat located fairly close so once you gather up all your laundry, don't forget the towels and sheets, head there with your quarters and detergent.
Once you have located the laundromat and a couple of empty machines begin by checking each piece of clothing for change, pieces of paper, anything that has accumulated there and should not be washed.  As you do this you can begin to separate your clothing into three groups.  Darks, lights, sheets (if needed), towels.  It is also a good time to turn clothing with the right side in which is simply don't wash shirts with one sleeve in and one out.  Make sure your jeans have both legs the right way.
If there are several empty machines at the Raleigh laundromat, you are in luck!  If not then begin with what you have.  Place a load of laundry in the machine making sure you have read the operating instructions for the machine.  This is usually relatively simple.   The biggest issue is when to put in the washing detergent.  Some machines require it to be placed in first, in the bottom of the machine, but most have a dispenser you will use that is marked.
The biggest rule for washing clothing is not to place to many items in your washer.  A good rule to follow is make sure it is only 3/4 of the way full.  This allows for proper cleaning.  If you stuff it full chances are your clothing will not get clean enough.  Once you have the detergent in and clothes loaded simply start the machine.  Repeat with your other loads.
One load of clothing will usually take 45 minutes for a cycle.  Be sure to bring a book or some homework to keep you occupied.  Once the cycle is completed you will boot the clean laundry to a dryer.  As you add them to the dryer give them a shake to help reduce wrinkling and make sure you add a dryer sheet to reduce static and give your clothing that wonderful smell like Mom does.  Turn the dryer on and return to your book or homework.
Once the dryer cycle ends check to see if your garments are dry or if they need a few more minutes.  Be sure to remove them when dry and either hang or fold immediately.  This will ensure that your clothes will be wrinkle reduced and ready to wear.
Don't take all that laundry home to Mom!  Laundry Express can help you with all your laundry needs.  We offer state of the art washers and dryers at our full service Raleigh laundromat.  Come give us a try today!