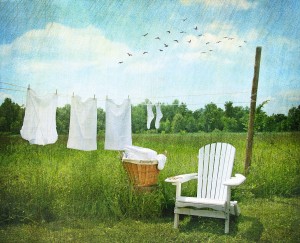 When it comes to saving energy and money, we can all relate to wanting to know more.  Any time we can reduce our carbon footprint and lessen the impact we have on the environment we should all pay attention.  Since one of our biggest chores around the home is laundry we are going to take a look at the ways in which we can be more environmentally friendly when it comes to doing the laundry.
Eco-Friendly Laundry Tips | Fluff and Fold Raleigh NC
While on the subject of machine make certain to replace yours when necessary with an energy efficient unit.  As we have stated before this will save energy and water with the added benefit of lowering your energy bill.
Wash your towels separate from your other laundry.  This will help when it comes to drying other items and will reduce lint on your other non-towel clothing.
Always choose a non-chlorine bleach if possible.  Chlorine bleach is an irritant to the eyes and skin.  A non-chlorine bleach uses hydrogen peroxide and less of an irritant.  Chlorine is not friendly to the environment.  It will naturally degrade into water and oxygen over time.  Replacing chlorine can potentially save 11.6 million pounds of chlorine from getting into out environment yearly.
To get whites brighter use lemon juice.  You can soak your whites in a sink filled with hot water and lemon juice overnight.  Wash as normal the next day and you will be amazed at how bright they are.  Another trick is to add a 1/2 cup to a cup of lemon juice to your rinse cycle.  This will also brighten your whites.
When it comes to drying your clothing check the lint trap.  If it is full empty it before drying your clothing.  Do this each time you dry a load of clothes to keep your dryer energy efficient.
Dryer Sheets are another place you will find loads of chemicals.  Consider finding an alternative to them by looking for ones that are more Eco-friendly.  Wool Balls are also a good alternative to dryer sheets.
You can also think about hanging your laundry to dry.  Believe it or not keeping your expensive clothing out of the dryer will prolong the life of the garment.  It will also save lots of energy and cut your laundry costs all around.  Indoor racks are great year round for drying your laundry.
When it come to laundry products you can make your own.  Many common everyday pantry items will make Eco-friendly laundry detergents and softeners.  Baking soda, vinegar, lemon juice, and hydrogen peroxide can all help you get your laundry in great shape.
It's important to do all we can to save our planet. That includes being mindful of laundry chores and how much energy and water is being used. These tips will hopefully help you save on these things, as well as help you get laundry done efficiently and productively!
For more tips, be sure to visit back with our previous blog post!
If you are serious about being more Eco-friendly when it comes to your laundry needs then Laundry Express, coin laundry in Raleigh NC can help.  As we have said earlier common use facilities will save the most money, energy, water, and time.  We are a state of the art laundry facility that offers everything from wash-dry-fold services to dry cleaning.  We can save you time as well as money when it comes to all things laundry. Come by and check out our laundry facility today!